Build It Yourself
,
Family, Kids, Pets
,
Furniture Makeovers
,
Home Decor
,
One Room Challenge
,
Organization & Storage
,
Painting Projects
,
Room Makeovers
,
The Country House
Tween Bedroom Reveal
You guys! It is the end of week six of the One Room Challenge and to say that I am ecstatic would definitely be an understatement. These past six weeks have been a crazy whirlwind of work, but we are so excited with the way everything turned out. Check out our Tween Bedroom Reveal!
But first, let's go back to the beginning and review where we started. Ugh. This room really needed some help.
The old carpet and dark trim were just not working for us, not to mention the mismatched random furniture and lack of accessories just made to room look blah.
OK. Now, scrub your brain of those old, mismatched images and let's move on to the pretty pics!
After some brainstorming with my daughter about how she wanted her room to look, plus some research to achieve that look on a budget, we came up with a beautiful and affordable mood board and design plan.
Here's what was on the to-do list…
Remove old carpet and replace flooring
Paint walls, trim, & doors
Replace old electrical plates, outlets, and switches
Add new lighting
Install window coverings
Create a workspace that can also double as clothes storage
Bring in color and textures with accessories
Organize craft & art supplies, books, toys, and clothing
Come on in. Stay awhile.
This room is now our favorite in the house and we hope you enjoy the visual tour as much as we (especially our daughter) are loving the real thing. Let's start at the entry door and work our way around the room.
Since this reveal is so pic heavy, I will be sharing more details and all of the sources next week in a separate post. Enjoy!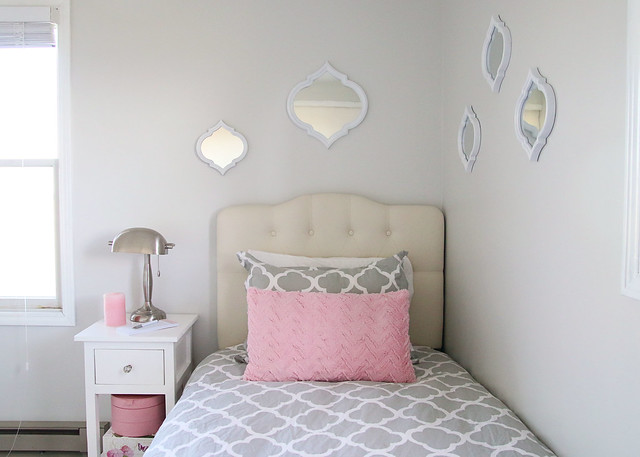 There was so much to do and we didn't know if six weeks would be enough time to finish! Thank goodness we've lived to tell the tale of our first One Room Challenge. Now I think it is time to hibernate for the winter and recover from this whole process. Well, maybe just for the weekend. *Wink*
If you have missed any of the progress in this room, feel free to go back and check out how we went from meh to marvelous!