Tween Bedroom Makeover Details and Sources
You guys! I must apologize. In the final reveal post, I said that I would share all of the Tween Bedroom Makeover Details and Sources with you last week. Oops! Over a week has passed and I'm just now getting around to finishing up this post. Part of it was probably laziness and the other part was burn out. I hear that completely overhauling a room in just 6 weeks can do that to a person. *wink* However, I'm ready to jump back in and tell you all about it.
Some of the links in this post are affiliate links. Click here to read my full disclosure.
To see all of the before photos, mood board, and all of the final photos of this space, click here!
As I already mentioned, this room was completely renovated. After some major gutting of the old carpets, we added new floors (peel and stick faux wood) and painted the walls (Benjamin Moore Gray Owl in Satin @ 50% ), trim, and doors (Behr Pure White in Semigloss).
We also replaced all of the electrical outlets, switches/plates, and the ugly almond thermostat.
Aren't these printable art pieces perfect?  Guess what!?  They were all free!
Since this room was craving some storage, we added large white boxes in the closet to help corral clutter and collections.
This pretty dress form is now a display area for new and vintage necklaces. Our creative girl also likes fashion and design, so her fabrics and sewing machine are just behind the doors of the closet. When inspiration hits, she can remove the necklaces and pin up a new outfit .
Finding a tufted headboard that our daughter liked and also fit our budget was a bit of a challenge. It seemed that every place we looked was out of stock of this particular one. However, after a little waiting, we were able to score this puppy and it looks so beautiful in this space.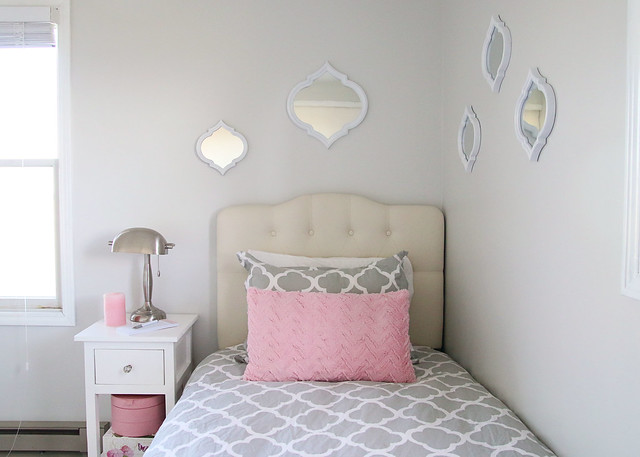 Aren't these Morrocan mirrors cute? We snagged them for just $16 from Marshalls. The scale is a little off for my liking, but my daughter loved the shape and they just happened to go with the room.
The nightstand was a last minute idea. My hubby built this one from scratch, using building plans from Anna White. A drawer and a few pretty boxes below add more storage to this small room.
The gray and white clover pattern bedding was our first purchase for the room and one that we are so happy with. The duvet cover is reversible (gray on white) and adds some nice pattern in here.
By looking at this room, you probably wouldn't guess that our daughter's favorite color is purple. What? That's right. The girl loves all things lavender. However, when looking for inspiration, she kept coming back to rooms that featured touches of pink and ultimately decided she liked the warmth and softness of a light pink color vs. purple.
One item I haven't talked about yet is this plush, cream, shag carpet we picked out. Since the new floors are pretty dark, we wanted to brighten the area with a soft rug. This fluffy option is perfect for stepping onto right out of bed in the morning. Or practicing splits and stretches.  Whatever you may fancy.
And if you've been following along, you may remember chandelier-gate 2016. (OK, it wasn't really a scandal.) This pretty little number gave us a few installation problems, but luckily we worked them out.
I already shared the details of how we built this "dresker" using two small chests of drawers. It is such a functional piece of furniture in this room since it doubles as both a dresser and a desk.
The swivel chair and faux sheepskin were a few last minute requests from our daughter…
Along with some of these pretty accessories.
We wanted a place for the little miss to display photos and important reminders, so I whipped up this easy pinboard with an old corkboard, some dropcloth, baker's twine, and upholstery tacks.
Wowza! I think that covers all of the tween bedroom makeover details and sources. We are so happy with how this room turned out and it is currently our favorite space in the house. Now we need to get working on some other rooms! Hmmm… I wonder which one will be next?