This month, I'm joining up for my first Create & Share Challenge, hosted by Casa Watkins and Pocketful of Posies!
So wait… what is this challenge?
Well, participants are tasked with using their personal decor style to create a project centering around one main item.  And this month, we are working with candles! For this project,  I chose to share the Book Page Candle Holder that I whipped up a few months ago.
This post contains affiliate links for your convenience. Click here to read my full disclosure.
I love candles of all kinds and it is so much fun to decorate with them.  Especially when they look pretty and match your existing decor. So many yummy scents, but also tons of styles and colors. Taper, pillar, tealight, oil, soy, square, round. The possibilities are endless. There are even battery powered candles, which is what I chose to work with for this project.
To make these super simple book page candle holders, you will need:
Book Pages
Mod Podge (or clear tape or glue)
Scissors
I started out by cutting out the book pages and trimming around the text so there were fewer blank spaces. (If you don't want to cut apart a real book, you can find printable pages online.) Then, after measuring my candle holders, I cut the pages to the correlating height.
I used 3 page pieces for one candle holder, but you may prefer to use more or less.
Using a paint brush, I applied the Mod Podge to the end of two pieces of paper and overlapped the other pieces on top. If you don't have Mod Podge, you can glue or tape the pieces together. (I already had Mod Podge out, so I just used that.)
Then, I added the book page insert to the inside of candle holder, making a round shape and overlapping the end pieces. Easy Peasy. Feel free to adhere the ends together for a cleaner look.
All that is left is to drop in a little battery powered candle and you are finished. (Please do not use a candle with an open flame. Your book pages may catch fire!)
I love the clean look of these book page candle holders.
They are so simple to whip up and you can add a new look to your decor without commitment if you decide to change things up later. I even experimented with adding some wrapping paper in place of the book pages, which gives you so many more options.
These would look great as a table centerpiece with candle holders of varying heights or lighting a walkway to the front door. Also, since they use battery-powered candles, they are kid and pet safe.
Now, check out the DIY Candle Projects my friends did! These ladies are so talented/creative and came up with some really amazing projects!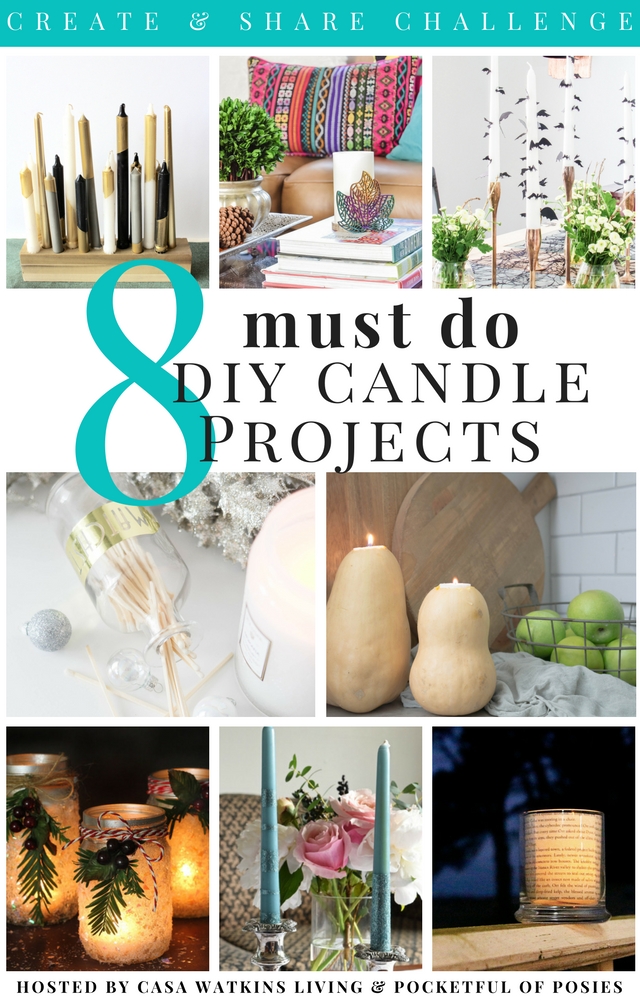 DIY Easy Candelabra and Color Blocked Candles – Craft and Tell
DIY Colorful Wooden Candleholder– Casa Watkins Living
Bat Halloween Candles – Pocketful of Posies
DIY Matchstick Holder – Iris Nacole
DIY Squash Fall Candles – Seeking Lavender Lane
Buffalo Snow Frosted Candle Holders – The Kim Six Fix
DIY Glittered Candles – Flourish and Knot
Book Page Candle Holder – Elizabeth Joan Designs