My Home Style Blog Hop: Neutral Modern Farmhouse Tree
Welcome to the 2nd annual My Home Style Blog Hop: Christmas Tree Edition hosted by Casa Watkins. I'm so happy to be participating again this year and to be sharing my Neutral Modern Farmhouse Tree for Christmas with you. (Check out my Christmas tree decor style from last year.)
If you are heading over Lovely Etc., WELCOME to Elizabeth Joan Designs! My name is Erin and I blog about  all things DIY, decor, etc. Isn't Carrie's tree and style amazing?! I just love her glam winter wonderland tree. If I were brave enough, I would have flocked my own tree this year.  However, I opted not to because I have yet to research all of the details. (Is the flocking permanent? Can you unflock a tree?  Does it shed?)
This Year…
Anyway, my Christmas tree style for this year is similar to last year's tree, in that I've used several of the same ornaments. However, I've really changed a few things up to give it a new, fresh look! Our tree is a lot brighter, thanks to some white batting (from a torn apart old pillow) that I added to give a freshly snowed upon look. I wanted to lighten things up and this was a great way to achieve that effect.
One of the new items that we wanted for our tree this year was a new tree topper! (In the past, we've used a star and a monogrammed C; our last name initial.) When my hubby and I saw this cute white, glittered reindeer head, we knew it would be the perfect addition to our tree. Isn't he cute?  I think we need to name him. *wink* And, for $6.98, I don't really think I could have passed him up!
The Ornaments
We opted to keep our ornaments simple and went with a few tried and true favorites, along with a new find.  I DIYed  the feather ornaments and silhouettes of our kids. The rest were purchased on the cheap! Monogram C from Walmart.
This post contains affiliate links. Click here to view my full disclosure.
We've also added a bazillion new lights to the tree.  (OK, maybe that is a bit of an overstatement.) There are bigger bulb type lights mixed with traditional warm white lights. I love how glowy it looks in the evening!
You may not be able to tell from the photos, but tons of lights = tons of cords.  And I have yet to figure out how to hide all of these.  Seriously, when the Christmas lights are not on, it looks like I must have just thrown the bundles of lights at the tree and called it a day.  It truly is a mess. I guess that is something to try to figure out how to improve on for next year!
Previously, I have described our home style as Neutral Modern Farmhouse and our Christmas tree definitely falls into the same category, even in this new house. I love to keep things simple with clean neutrals, but also have a comfortable and collected look. Kind of classic meets contemporary.
Thanks so much for stopping by today to check out the My Home Style Blog Hop: Neutral Modern Farmhouse Tree! To see more, browse the project gallery or follow me on Instagram or Facebook for fun sneak peeks!
Eager for more Christmas Tree styles? Head on over to Roots North and South next! Then, check out the other Christmas Tree stylings by these amazing bloggers.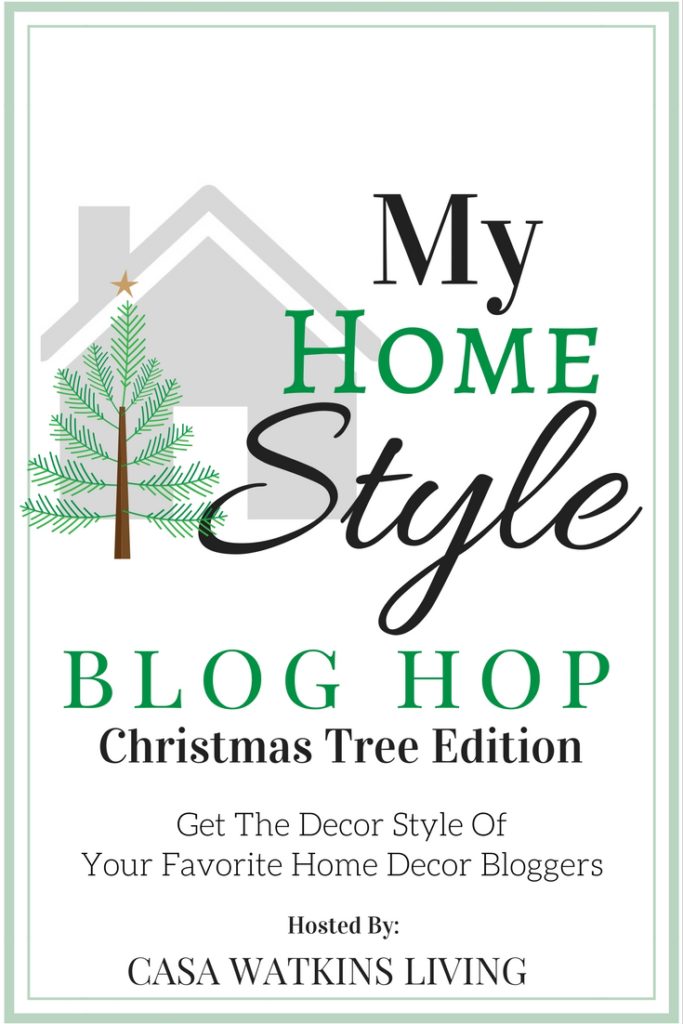 Monday
Casa Watkins Living
Blue I Style
Polished Habitat
Southern State Of Mind
Up To Date Interiors
Lovely Etc.
Tuesday
Elizabeth Joan Designs {You are here!}
Roots North and South
Postcards From The Ridge
The Striped House
Pocketful Of Posies
The Gathered Home
Wednesday
Boxy Colonial
Ciburbanity
PMQ For Two
Farmhouse 40
Monica Wants It
Thursday
The Happy Housie
Organized Nashville
Designing Vibes
This Is Our Bliss
Iris Nacole
Friday
Fresh Crush
Domicile 37
Cassie Bustamante
Flourish and Knot
A Designer at Home