Patio Update on a Tiny Budget
Our little patio is nothing special. Until recently, we only had a couple of cheap, second hand patio chairs, a sand box for the kids, and our grill, which totally met our needs. However, with the warmer weather we've been having, I've been feeling the need to spruce things up. The only problem is that we don't have a huge amount of money to throw into a patio makeover. We are currently saving for a few other big projects inside of the house, so I had to do a patio update on a tiny budget.
Unfortunately, I didn't get a before photo, but you really aren't missing out on much. These chairs were super cheap to buy and after a couple of years of use, the seats had started to fade and look weird.
So, I grabbed a few cans of Rust-oleum Oil Rubbed Bronze spray paint and went over all parts of each chair. I was a tiny bit worried that the paint would effect the feel of the seats, but they are exactly the same to the touch as they were before painting. Plus, changing up the color really makes the outdoor space feel so much different and saved us from having to buy new chairs. Woohoo!
Here they are still drying, but I think they turned out pretty nice.
I also found some cool indoor/outdoor globe string lights at Target that I thought could be fun for the patio. (Dollar Spot for the win!) I wasn't crazy about the blue color, so I grabbed some ping pong balls from the dollar store and changed them out for a more neutral look.
To add the ping pong balls, I used a craft knife to cut an X into each ball and then inserted a bulb into each. Easy peasy.
The striped lumbar pillows were a last minute idea. The fabric is from Ikea and I was hoping to cover some existing placemat pillows. Sadly, I measured everything incorrectly, so I had to wing it and sacrifice a couple of old throw pillows to stuff these. They turned out cute though, right?
As for accessories, I grabbed our pegboard luminary and added a few other items from around the house. I love this pretty, yet simple, vignette.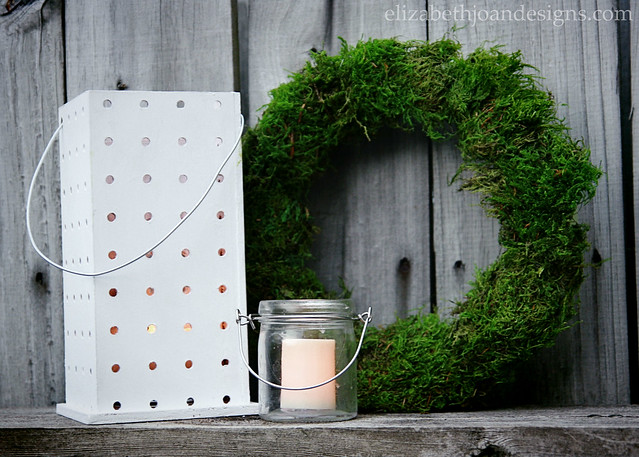 In all, I think we spent about $30 total on this update, with the cost of paint and the little bulb lights. Not bad, huh? Although this is not the patio makeover of our dreams, I think it will totally make our time outdoors a bit more enjoyable. What do you think?
_______________________________________________________________

You may also like: