Industrial Projector Table Makeover
We want to welcome our November guest poster, Bre, from Brepurposed! Bre has some of the most amazing DIY furniture makeovers and has been our bloggy friend for awhile. We love her rustic style and hope you will stop by her website and say hi!
Hi Elizabeth Joan readers! I'm so excited to be here today sharing one of my projects with you. I'm Bre and I blog over at Brepurposed. I co-host Your Designs This Time with these lovely ladies, so you may be a little familiar with me already :)
Today I'll be sharing with you the transformation of this old projector table!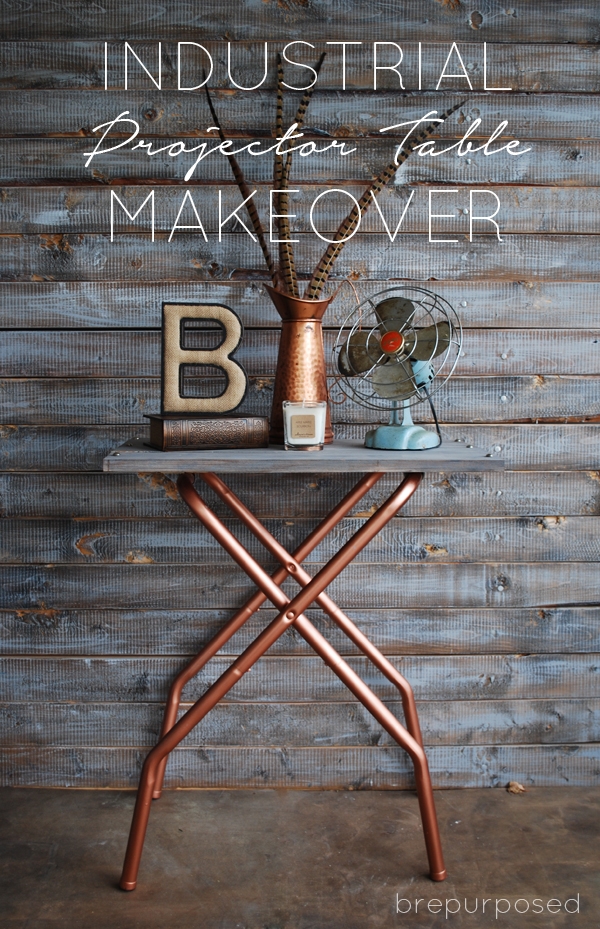 I found it at my local Sal Val for $4.99 and was drawn to those amazing legs!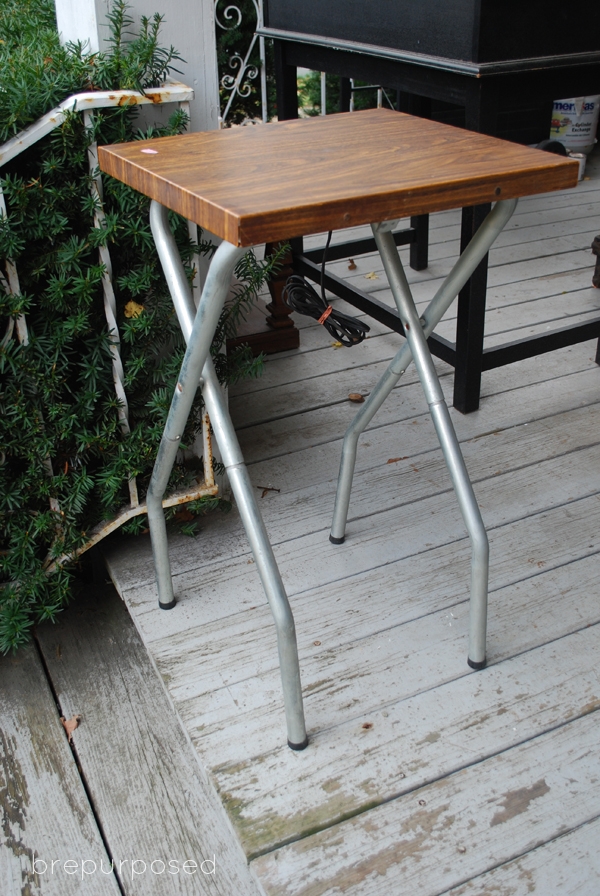 I'll be honest, when I first spotted it, I had no idea what it was. But then I turned it around and saw these buttons. I figured it was a projector table but did a quick google search to make sure.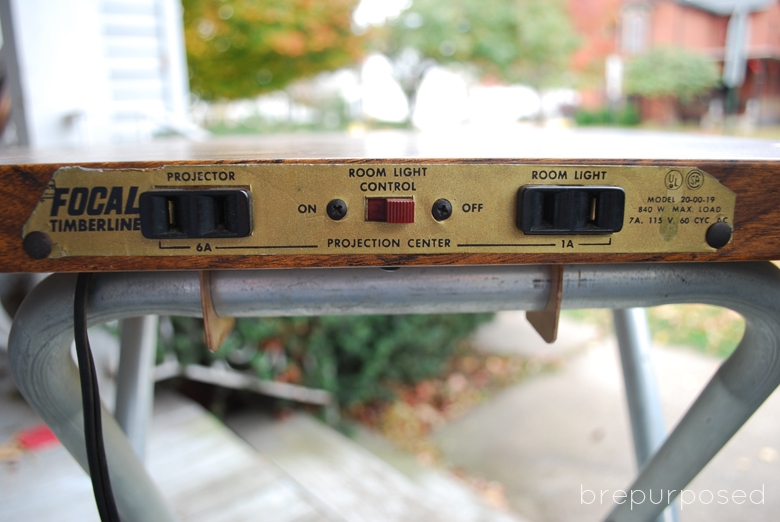 I figured this would be a pretty simple makeover: cut some scrap wood, stain it up and attach it to the legs. Turned out to be a little trickier than I was hoping.
I originally planned on using some old pallet scraps I had but I couldn't find enough good pieces to make a flat table top. I decided to just head to Home Depot and have them cut me some pine which was much easier anyway :)
After glueing the boards together I started out by staining them in Minwax's Dark Walnut, two coats. I thought about leaving it like that, but have really been into the lighter colored wood paired with copper. So I mixed some Annie Sloan Decorative Paint® in Old White with some water.
I brushed on this whitewash with a foam brush and then wiped off the excess with a paper towel. I repeated this twice to get the look I wanted. I didn't seal the top with anything because I want it to weather over time to give it some more character.
Now for the legs. Oh copper how I've missed thee. I bought some of this spray paint a while back for a project and can't believe it's taken me this long to use it again. I've been crushing on copper ever since.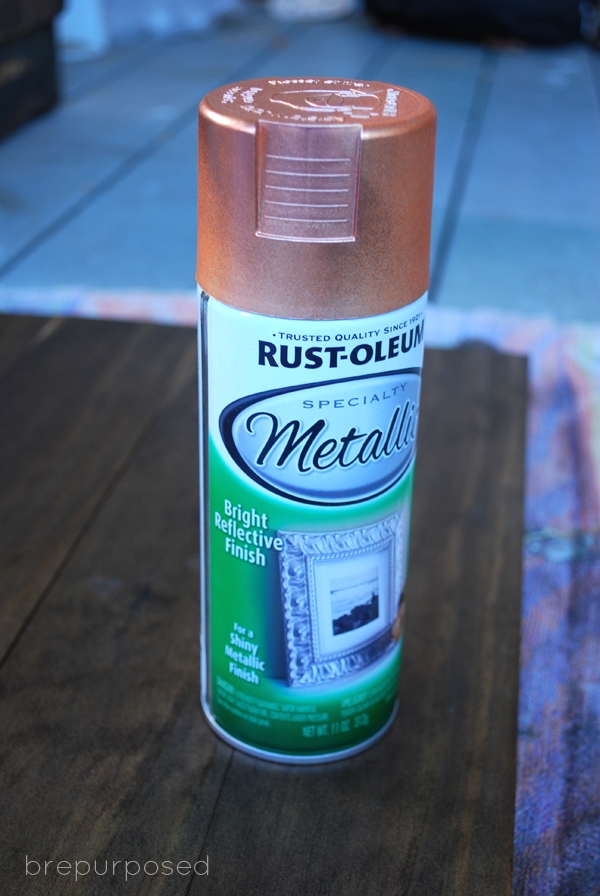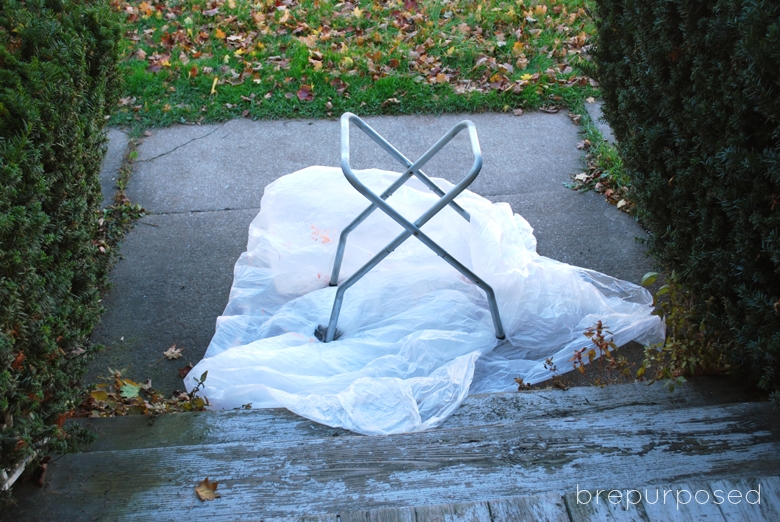 Now after that was done, things got tricky. You see, there was a little box underneath the original top where all the wires were stored. One side was attached directly to that box and the other was attached right to the top, causing them to be different heights when I took it apart.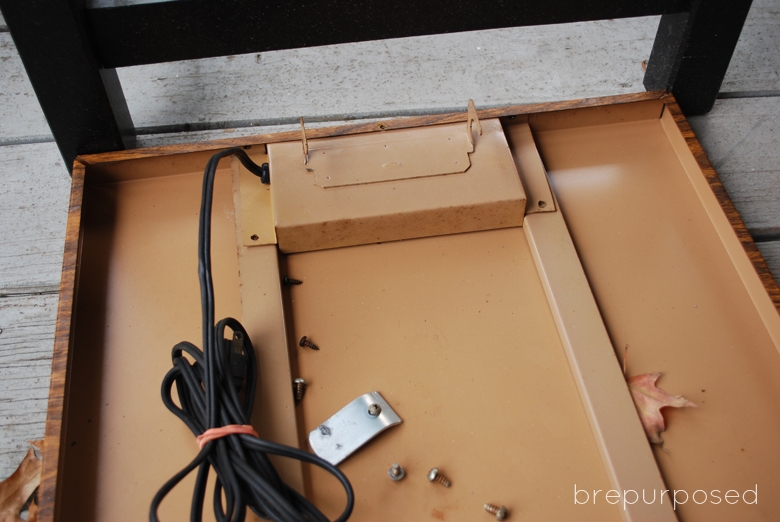 The legs also don't lock, so when I was placing my new top on them and trying to figure out how much extra room was under the one leg, they kept flying out from under me and causing lots of problems. Ugh! I was hesitant to use a little piece of wood under there to make up for the space because I thought you would be able to see it, but I really had no idea what else to do so I went with it.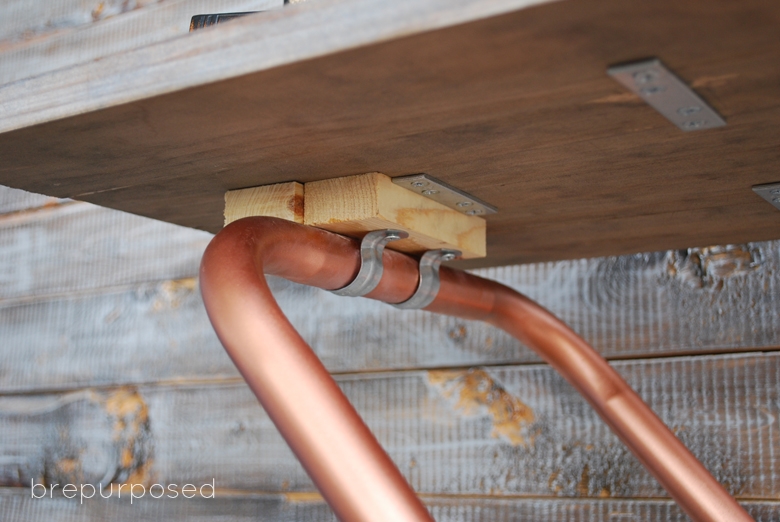 The table is low enough where you really don't notice it and I'm so thankful I had some scrap wood that was the perfect fit!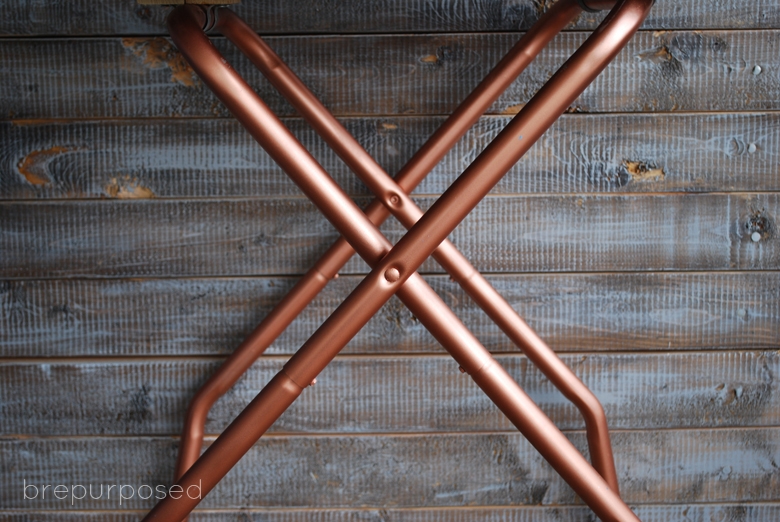 Lastly, I added some nail head to the sides for a little extra flare :)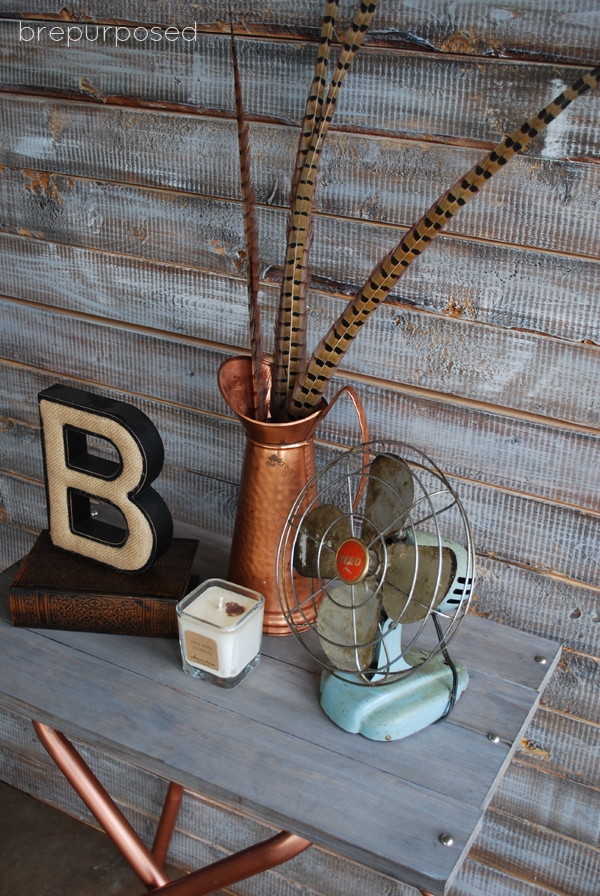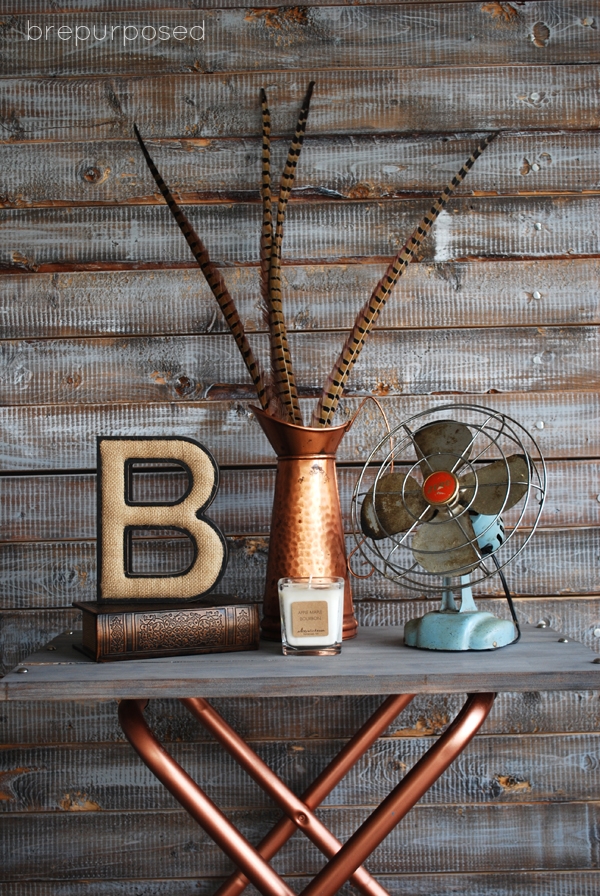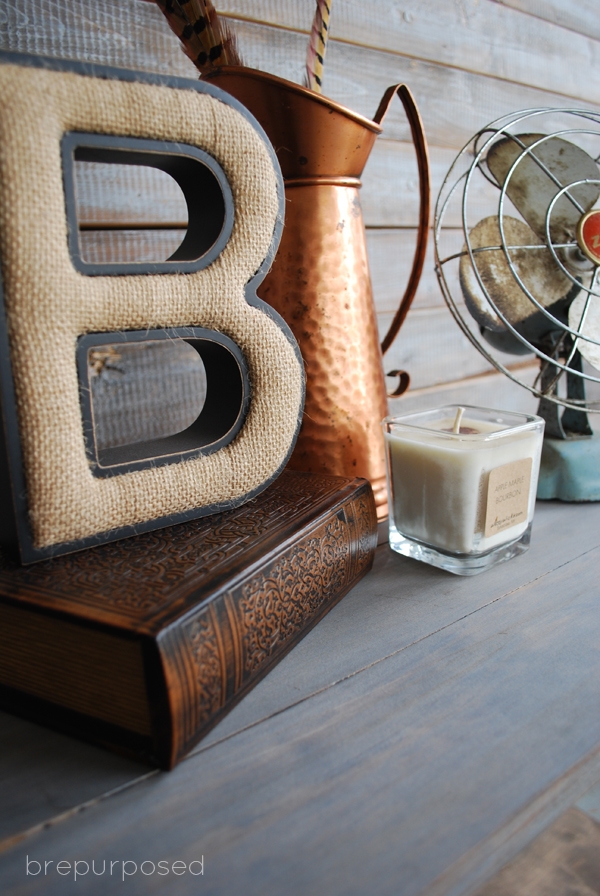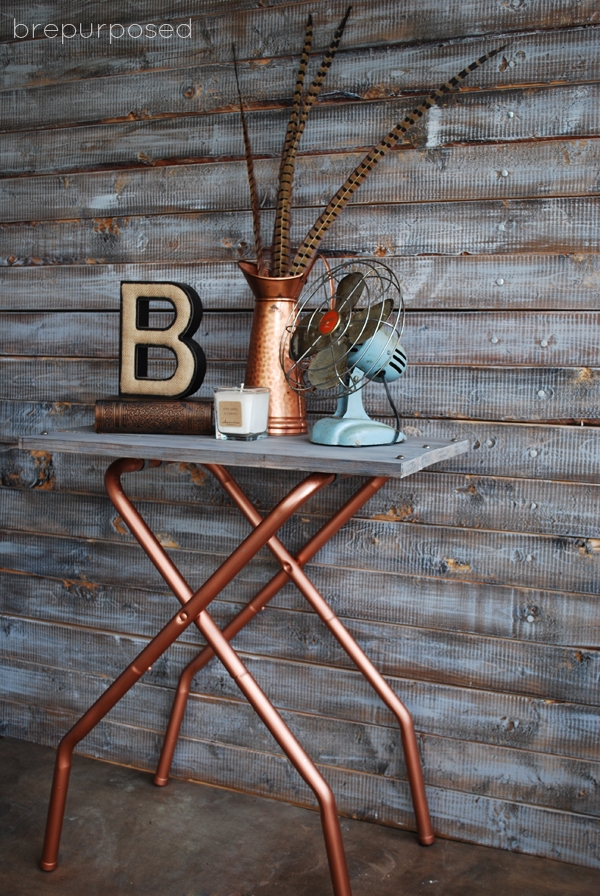 Have you guys ever seen an old projector table like this? Or own one?? You could make so many different kinds of new tops for them, the possibilities are endless!
If you liked this post, I would love to have you stop over to Brepurposed where you can find tons of furniture makeovers, DIY Home Decor and Crafts and a free printable every Friday!
Thank you so much, Emily and Erin for having me over today and letting me share this makeover with your readers! Have a fabulous day everyone!
Wow, what an awesome transformation! Thank you so much, Bre, for sharing your amazing makeover with us!
____________________________________________________________________

You may also like: